Due to the generosity of our program sponsors, we are able to offer Patent Pathways at no cost to participants. To ensure the program remains free, we are seeking additional sponsors to fund patent skills training, patent bar preparation, patent bar exam and registration fees, and supplemental resources for participants to begin a success path into patent law.
Another important aspect of the program is providing successful participants access to internship and job opportunities, so that they can immediately apply the knowledge and skills that they obtained in the Patent Pathways patent drafting and patent prosecution training modules.
The program also has a need for presenters on patent-related topics, as well as mentors for each participant.
The Corporate Sponsorship opportunities for this program are further outlined in the table below: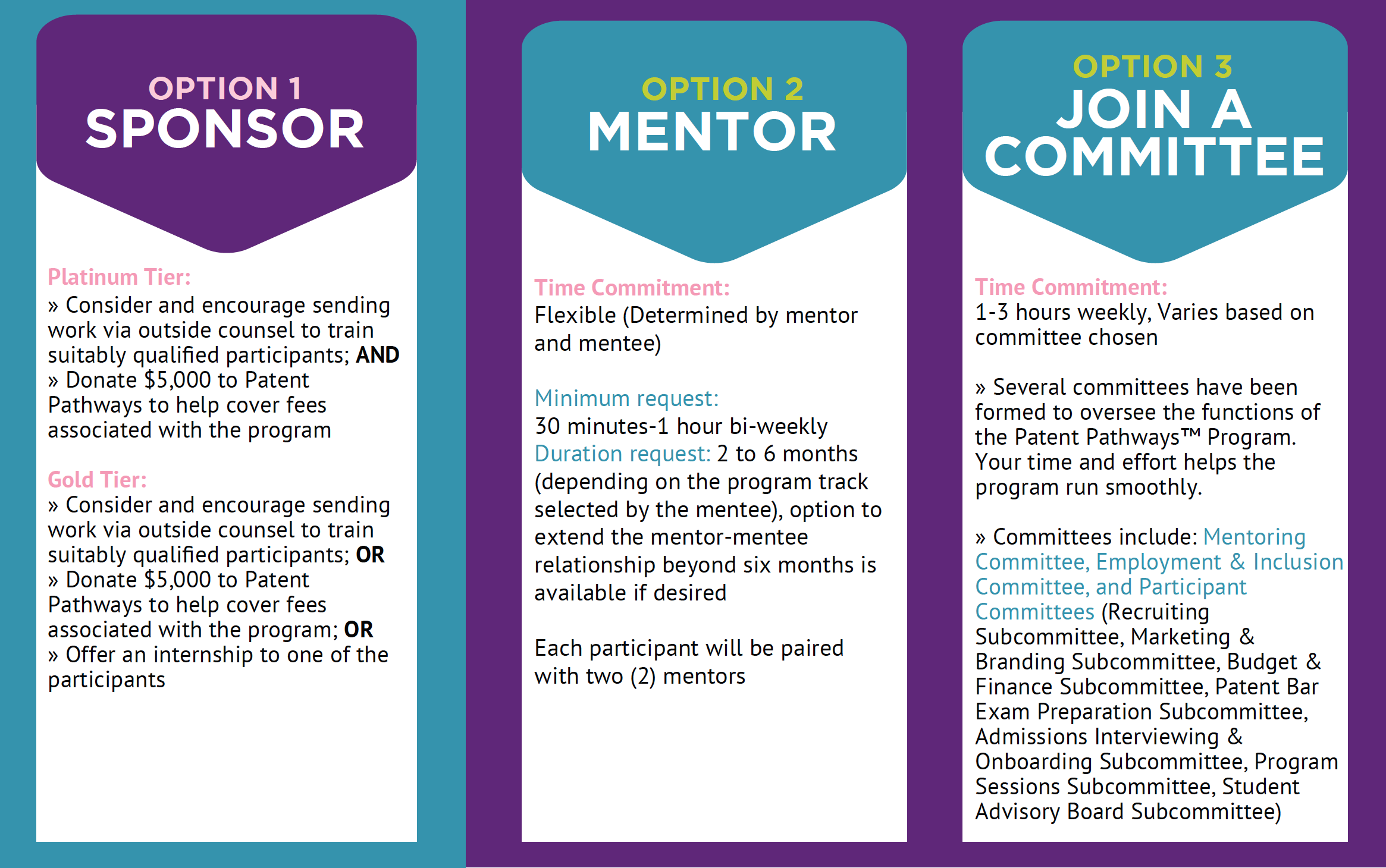 Don't want to use PayPal? Request an invoice HERE.
Make your $5,000 contribution in one of four easy ways.
Option 1: 
Send $5,000 to Patent Pathway's nonprofit PayPal account @PatentPathways
Option 2:
Request an invoice here.
You will be provided with an invoice in the amount of $5,000 along with a W-9.
You can then send a check made payable to Patent Pathways via mail to:
Sandra Maxey
11350 Random Hills Rd
Suite 600
Fairfax, VA 22030
Option 3:
If your organization is a client/member of the Benevity Causes Portal, please search for Patent Pathways and you can make your monetary contribution within the portal.
Option 4:
Send an ACH electric funds transfer. Contact smaxey@harrityllp.com for details.
Looking for a customized sponsorship package? We are happy to work with you to make the most of your impact! Schedule a meeting with us using the button below to get started.
Looking for more ways to get involved? Harrity is looking for mentors, partners, & sponsors for various Diversity & Inclusion programs!