Patent Pathways™ Matching Campaign: Double Your Impact!
We are thrilled to announce that Harrity4Charity is matching donations up to $50,000 made to Patent Pathways™ through Giving Tuesday! This is a monumental step towards amplifying our impact and driving meaningful change in the industry.
At Patent Pathways™, we are steadfast in our commitment to diversifying the patent bar. Our work has been making waves in the industry, but we believe there's more we can achieve together. The Matching Campaign is a golden opportunity for us to multiply our efforts and create a lasting impact.
Here's why your participation is crucial:
Lead by Example: Your participation as members of the patent community and advocates of Patent Pathways is vital. It sends a compelling message about your commitment to diversity in the patent field. By contributing, you inspire others to recognize the importance of our cause and encourage them to take action.
Amplifying Our Reach: Your support enables us to extend our reach to more aspiring patent professionals. This campaign is a unique opportunity to change lives and reshape the future of the patent bar.
How You Can Make a Difference
1. Donate Today: Visit our Matching Campaign donation page here or use the PayPal app and search @PatentPathways to make your contribution. By donating, you are directly funding essential resources like PLI Patent Bar Prep Courses, Patent Bar Exam Fees, and career matching programs for underrepresented individuals in the patent industry. Remember, every dollar you give will be matched by Harrity4Charity, doubling the impact of your donation.
2. Spread the Word: Help us raise awareness by sharing information about our Matching Campaign on your social media platforms. Use the hashtag #DoubleImpactPathways to engage your network and inspire others to join our cause.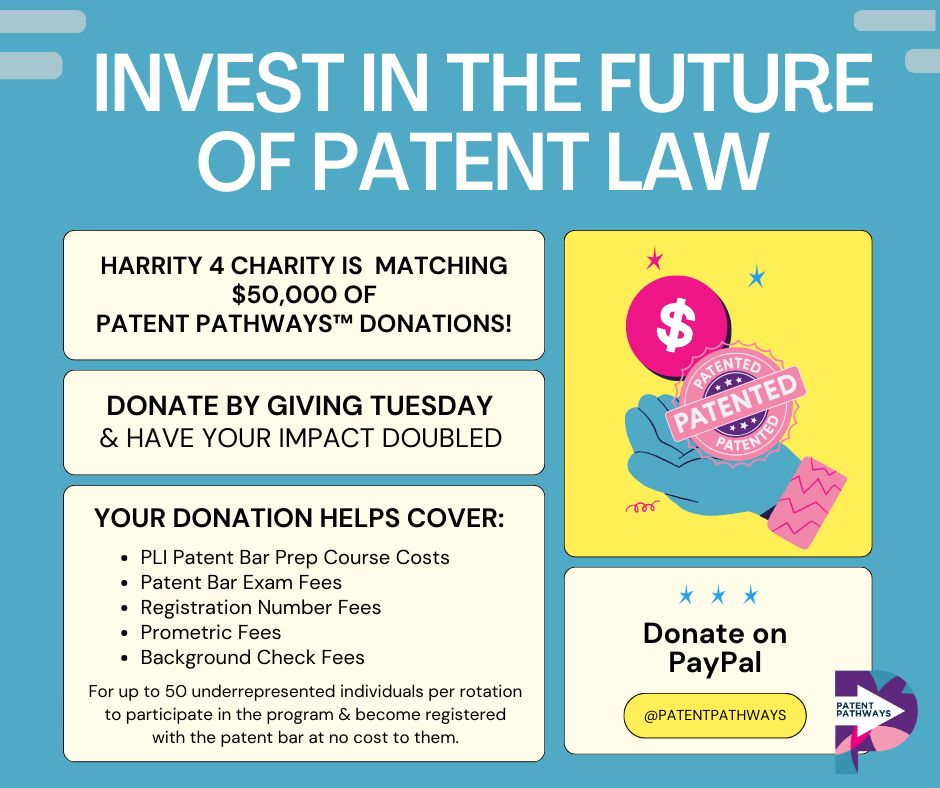 The Patent Pathways™ Matching Campaign is more than just a fundraising initiative; it's a movement towards creating a diverse and inclusive future in the patent industry. Your support, enthusiasm, and dedication are the driving forces behind this campaign. Let's come together to make this vision a reality and open doors for countless individuals dreaming of careers in the patent field.
Thank you for being an integral part of this journey and for being the change-makers the world needs. Together, we will achieve new heights and make the inclusive patent bar of tomorrow a reality today.
Want other ways to get involved? Check out these useful links below!
JOIN A PATENT PATHWAYS COMMITTEE
BECOME A MENTOR
BECOME A LAW FIRM PARTNER
BECOME A CORPORATE SPONSOR
APPLY TO PARTICIPATE IN PATENT PATHWAYS
Want more? Watch Elaine Spector's Driving Diversity series HERE. Elaine shares tips and sparks conversations to drive diversity in the legal field in this weekly short-video series.